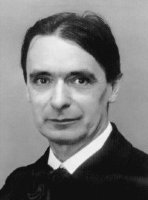 Have you been perplexed by Rudolf Steiner's books and lectures?
A classic example is this:

Do you try to understand him one phrase at a time? And as soon as you add it up, did you ever find your self thinking "this doesn't add up!"

Then you definitely need my course My Method to Understand the Philosophy of Rudolf Steiner (and Anthroposophy)
Are you having problems in understanding the content in thelectures of Rudolf Steiner? Then this is the course for you! In this course I teach my own method of comprehending the design of the philosophy of Rudolf Steiner (called anthroposophy). If this is interesting to you, then read further!

Why be in the dark? It is frustrating and also embarrassing! One way to end your frustration is to learn my method, or you can pretend that you will 'eventually learn it.' But most don't ever learn it. They just keep going to the study groups and pretending and pretending. If this sound like you? End the frustration now! Take my methods course on the Introduction to Anthroposophy. It will open everything that before was a blur. And everyone finds the 'blur', so speed up the comprehension by learning my tips and methods.

It is for everyone at any level from beginners to advanced. Even advanced Anthroposophists can benefit, because my method will work even more effectively with advanced anthroposophists. Why? Ever thought of the value of a Critic? Well, in my experience Anthrposophists that are also 'big in talk' also have not had the needed resistance in order to get so real power in their punch. They can speak well, but in that one may loose the many important life-experiences that come from a teacher. The teacher brings the proper level of resistance, the opportunity to question, and the right comebacks to make the experience rewarding for everyone - no matter who wins - shall we say. Everyone needs this. It often happens that the normal and experienced anthroposophists needs also to play in the game of thoughts, and 'be pushed to their limits' and beyond. This breaks the energy, the 'stuckness', and removes fear and smoothens and softens the mind and allows it to freely join with the heart and the greater light we share. If you know of someone like this (other than you) go ahead and share this link and tell them to join this course with me.

This is a 30 day course, and comes backed by a 30 day money back guarantee you will learn how my method of unraveling the deepest treasure of knowledge and pearls of wisdom found in anthroposophy.

What this course is not....
This course is a training in my method of language, which leads to an understanding of the language and thoughts that compose lectures of Rudolf Steiner. It is not a course to teach you anything more than that. It is simple fact focused training on that one objective. Once you have learned my method, it is a like a jack knife that will work to unlock the vital secrets and treasures in every lecture Steiner has given. I have given over 2000 lectures to eager students. I am experienced in the work to clarify my own thoughts in books and lectures to students. For me, perplexed students only means they will never come back. I am trained to get it right or lose the student in the game. But you can take advantage of my huge wealth of experience by learning my simple techniques and proving them in real life situations. You will be able to pick out the key phrases and the patterns and you will never be confused again - at least in a bad way, after all, sometimes it is a good thing to lose especially if losing means you get to keep a friend! Now isn't that better than being right all the time? Want to know more....read on.....

Adding to my experience, I am the editor of literally 1000s of Steiner lectures and 3000 more lectures by noted anthroposophists. That experience gave me the capacity to learn all the secrets, and now I can pass those on to you. My method works in every lecture, course, and every subject, even if you are unfamiliar with it. Give it a try and remember, even if you come a way with thing useful, you can be sure you will use on every lecture you will read after that. Bring your own questions regarding any lecture giving you problems and we will solve it. In this course expect to read phrases and answer questions. That is all you need to be willing to do and the comprehension will happen on its own. Other students in this course will assist in answers. I will open the course when a certain number have signed up. Maybe you have a friend that wants to join with you? Why not make it a group? See you in the course! And it comes with free reads of chapters from my own books.
Bring your deepest questions from Steiner's work
Answer questions in your own thoughts and words
Get feedback and analysis on six important questions
Share and explore answers with other students
Find friends that want to learn and study meaning of the the spirit

Find patterns way before they are revealed in the text

Test analysis of the thoughts of other Anthroposophical authors

Prep Course for Introduction to Anthroposophy